Wanna try and bake a cake at home? Then, go for it. It might sound to be interesting and difficult at the same time. But, trust us, it is not that arduous and would be worth spending those 15-30 minutes. Be it for a birthday, anniversary or any other occasion, a homemade cake can be a life saver. You just need to pickup the ingredients available in your kitchen and get a delicious cake. Here, we'll try to provide you with some baking tips as well as recipes to help you bake the perfect cake.
Tips to follow:-
• The first and the most common tip is to stick to the recipe. The main reason of not getting a perfect cake might be that you are not following the recipe properly. This means that either you are using substitute ingredients based on the availability in your kitchen or not paying attention to the recipe.
• Another area where there are high chances of making a mistake is the measurement part. You need to follow the measurements that are mentioned in the recipe properly. A recipe failure could even be due to one mis-measured tablespoon of sugar. Therefore, to get better baking results, you need to understand the correct measuring technique.
• You also need to make sure that ingredients are properly mixed. Also, don't under-mix or over-mix the batter. Just whisk it until the ingredients are combined.
• If recipe calls for room temperature ingredients, then just go for it. Don't go for cold ingredients as they might not emulsify together, thereby resulting in an imperfect cake.
• Lastly, don't be in a rush to decorate the cake. Always allow it cool down completely in the pan.
Recipe:-
Ingredients required-
• 2 cups all purpose flour
• 1 cup powdered sugar
• 1 teaspoon vanilla essence
• 2 cup egg/ 1 cup curd
• 3/4 cup refined oil
• 1 tablespoon baking powder
• 1/2 tablespoon baking soda
• 1/2 cup milk
Steps to follow-
– Begin by mixing curd/eggs with powdered sugar. Whisk well with a manual whisker until light.
– Now add all purpose flour to the mixture of curd and sugar. Keep stirring the mixture and slowly and gradually add milk to it. The milk should be at room temperature. Mix well until you get the perfect consistency that pours down like canned condensed milk.
– Add refined oil and vanilla essence.(Apart from vanilla essence, you can also add a flavour of your choice) Mix it well and finally add baking powder and baking soda to it. Whisk it a little and your batter is ready. Check for any lumps. You can also add some nuts or cherries to the mixture for a change of taste.
– Now, sprinkle some maida on a greased tin. You can also use a butter paper for the purpose. This will prevent the cake from sticking to the tin. Pour the mixture into the tin.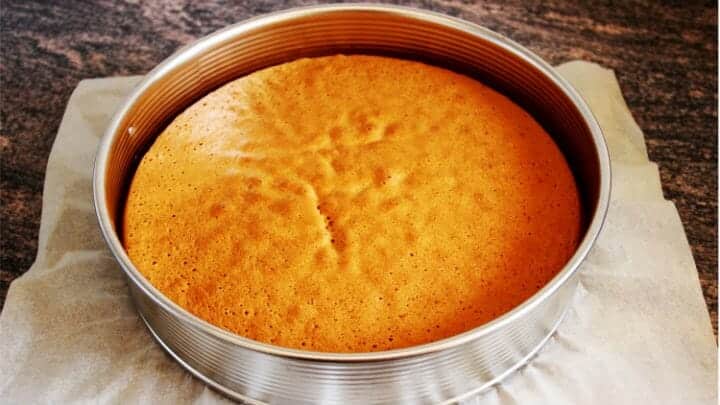 – For baking, you can use a cooker without whistle or a big container with some salt in it. Heat the container and then place the tin in it. Also ensure that the tin is placed on a stand in the cooker. Cover it with a steel plate and let it cook for around 30-45 minutes. If you're using an electric oven, then bake the cake at 180 degrees for around 20-30 minutes.
– After the time is up, check with a fork or knife. If it comes out clean, then your cake is ready. Don't worry if it is still not ready. It might take 10-15 minutes more.
– Remove it from cooker/oven and allow it to cool at room temperature. Once it has cooled down, you can decorate it in your own unique way.
Found it easy? Welcome to the club, as you are all set to complete your occassions with a delicious dessert. Make your moments more memorable with a simple cake blended with love and care.