Looking for some recipe to try at home? Then why not make use of our mouth-watering butter chicken recipe. Butter chicken is one of the most popular and delectable dishes that is savored by many across the world.
Paired with naan, the dish serves to be a perfect delight and is loved by most Indians during their restaurant visits. This article will guide you to make butter chicken at home that is absolutely tempting and delicious.
Ingredients required
For marination
½ kg chicken
½ teaspoon red chilli powder
¼ teaspoon salt
¾ tablespoon lemon juice
½ teaspoon garam masala
⅛ teaspoon turmeric
1 tablespoon ginger garlic paste
½ cup yogurt
¾ tablespoon oil
For gravy
1 teaspoon ginger garlic paste
2 tablespoon butter
1 cinnamon
2 cardamoms and cloves
2 green chillies
4 tomatoes
15-18 cashew nuts
¾ teaspoon garam masala
1 teaspoon red chilly powder
½ tablespoon kasuri methi
100 ml cream
Steps to follow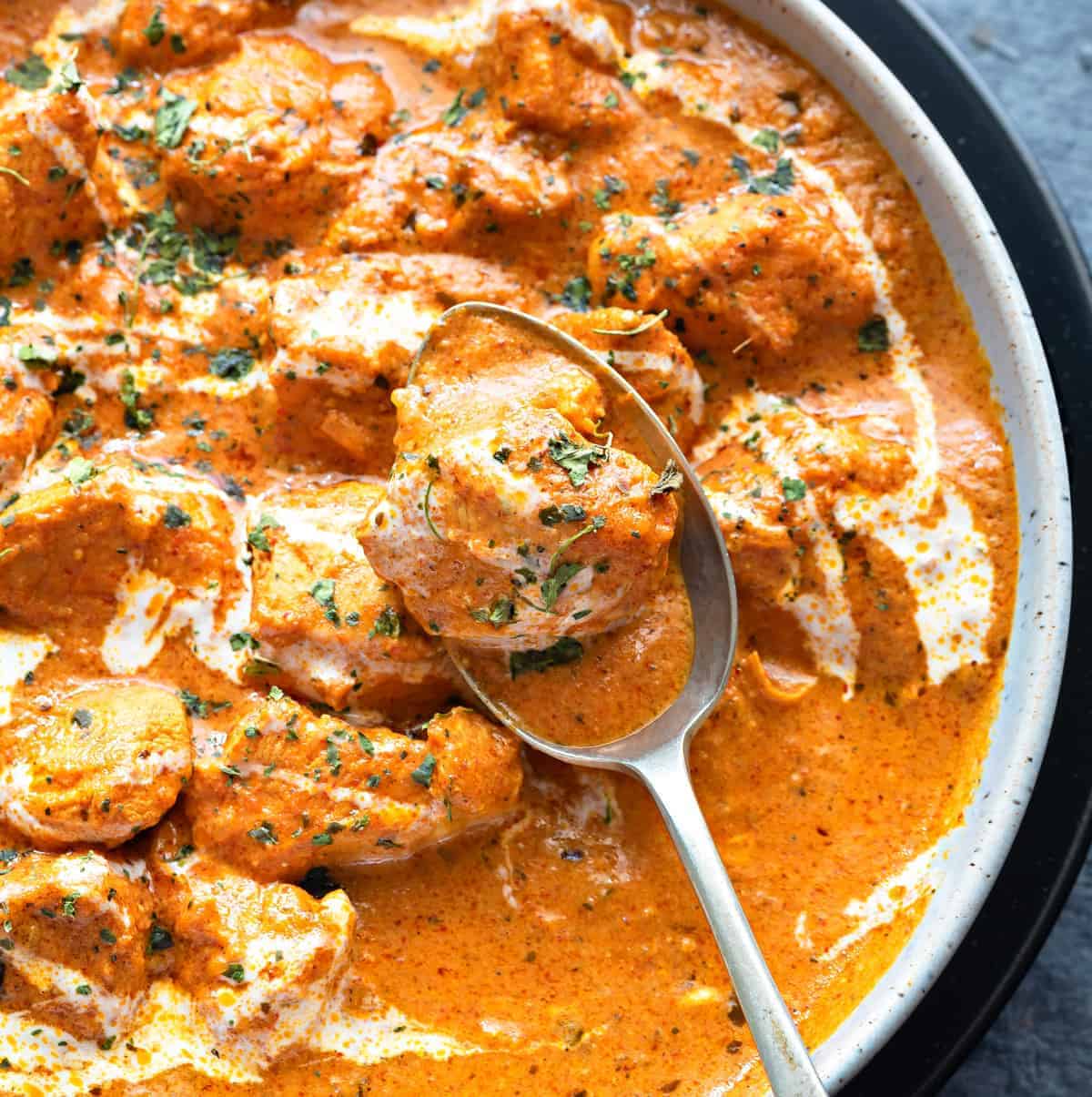 Here are the steps to follow while preparing for butter chicken-
– The first step involves preparing some essential items. This includes marinating the chicken, deciding on a good garam masala, tomatoes and cashews puree and lastly arranging a good red chilly powder.
Marinating
The recipe begins by marinating the chicken. Marinating helps to make the chicken tasty and soft. Wash the chicken and let it dry to make sure that there is no excess of water. You can marinate it with lemon juice, salt and chilly powder.
Keep it aside for around 15-20 minutes.
Next, marinate it again with ginger garlic paste, oil, fresh yogurt, turmeric, garam masala and kasuri methi.
Mix it well and refrigerate for around 12 hours. The more it is marinated, the more it becomes soft.
After this, you can either grill the chicken on tawa or in oven. As for the oven, preheat it at 240°c for 15 minutes and grill the chicken for around 20-30 minutes. If grilling on pan, add one tsp of butter and fry it on high flame, but be careful not to burn it.
Once, it turns slightly golden brown and the moisture evaporates, set it aside.
Now let's move on to the making of gravy. Heat a pan and add butter to it. Next, add cloves, cinnamon and cardamom to it and saute it for around 2 minutes. Add green chillies, ginger garlic paste and fry it for 2-3 minutes.
Pour tomato puree, red chilly powder, salt and a little bit of sugar in the pan. Cook until the tomato puree becomes thick and leaves oil.
Add 1 cup water and cashew paste to it. Let it come to a boil and then cook it for 3-5 minutes on low flame.
Now, you can add chicken to it and cook it for around 5-7 minutes. The cooking time might vary sometimes. Check for salt and spice and adjust it according to your need.
Lastly, add kasuri methi, garam masala and cook for around 2-3 minutes. Add chilled cream to it and take care not to cook for long after adding the cream.
Garnish your dish with cream and coriander leaves and serve it with rice or naan.
Just follow these steps to serve your taste buds with delicious butter chicken at home.